Exact projecting and planning - GeoZ (for the City of Zurich)
Exact projecting and planning foundations for Geomatic engineering and surveying for the city of Zurich (GeoZ)
For the Department of Geomatic engineering and surveying for the city of Zurich (GeoZ), iNovitas used stereo image-based mobile mapping to digitalize the road network within the project parameters. The raw data collected was processed as an intelligent 3D image data base which is available for evaluation via infra3DEngineering. With the infra3D Web Client, GeoZ could digitalize the terrain and location points very simply and efficiently and turn them into a detailed precise digital terrain model with a location plan.
The challenge
Busy roads make conventional measuring work time-consuming and dangerous. Comprehensive safety measures such as restrictions are also cost-intensive and impede the normal traffic. For this reason, Geomatic engineering + surveying for the city of Zurich (GeoZ) was looking for a way to collect spatial information from the street space quickly, safely and efficiently.
The later project planning process requires a high level of geometric accuracy for the required evaluations. 
The solution
To conduct virtual field surveys and evaluations within the project perimeters as quickly as possible, commissioned by GeoZ, iNovitas created an infra3DEngineering. The street network involved was digitalized with stereo image-based mobile mapping and processed as a high-resolution 3D image. The additional control points in the project perimeters enable the processed 3D image data base to be referenced simply and efficiently from the high blocks of houses at the required level of accuracy. 
Hosted in the cloud, the digital map is available to the administration, as well as to external engineers and planners, at any time and from any location.
A detailed terrain model with infra3D Web Client
With the help of Web Client, GeoZ created a detailed terrain model of the street space using manual measurement of breaklines in combination with a high resolution RGB 3D point cloud derived from the image data base. Various objects are identified in the street space and mapped for planning purposes.
The bottom line: massive benefits to your daily work
infra3DEngineering is used in a versatile way by GeoZ: virtual field surveys, determining distances, surface masses, mapping assets and correctly positioned superimposition of existing geodata. The service brings the street space direct to the desk of the administration, as well as external engineers and planners. That means cost and time savings for GeoZ. The infra3DEngineering, in combination with efficiently conducted evaluations, creates the ideal data foundation for the complex planning process for a new railway line in the city of Zurich.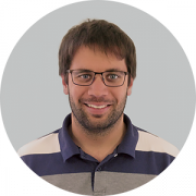 The infra3D service is hugely beneficial to our daily work: the 3D image data provides us comprehensive information and measurements direct to our work place. So we could realise the project in 30% of the time it would have otherwise taken and with a 60% cost saving, while also meeting the requirements of occupational health and without disrupting traffic.
Roman Wolf, Project Manager for Geomatic, Geomatik-Ing. MSc ETH, pat. Ing.-Geometer
Curious? Do you want to collaborate? Contact us!