Do something unique
We are iNovitas
We are a highly specialized service provider in a revolutionary technology for the digitalization and cloud-based use of detailed 3D-imaging of streets and railways (digitalization of reality). The technology raised the bar for efficient maintenance, planning and developing transport infrastructures. Our product, the unique infra3D service, provides you with an intelligent and high-resolution 3D image data base, which enables you to service your infrastructure and carry out building design work. infra3D service simplifies infrastructure maintenance, the management, planning and realisation. The infra3D Service is available in different, sector-specific configurations to meet the highest demands.
Who we are
iNovitas AG was formed in Muttenz (Switzerland) January 2011 as a spin-off company of the Institute of Geomatics Engineering of the University of Applied Sciences and Arts Northwestern Switzerland. This cooperation enabled a know-how transfer between the parties and remains important in the future for the innovative power of iNovitas.
Our company is unique in every way. We are developing a unique system solution, comprising mobile data collection system, data processing software components and a cloud service. So we can provide you an individual infra3D service, which brings your infrastructures –  with precision, three-dimensions and high-resolution – into the work place. The infra3D service is a customer specific application that caters to individual demands and achieves unique precision with the collected data.
That's what we value
Our highly innovative team is continually developing our system solution to expand the application area of our collection system and to introduce the infra3D service into new sectors.
Winner of the Swiss Economic Award 2015
On 5th June 2015 during the Swiss Economic Forum in Interlaken took place the prize-giving ceremony of Swiss Economic Award 2015. This is most prestigious young entrepreneur award in Switzerland. The iNovitas AG with its infra3D services was crowned as the winner of the Swiss Economic Award 2015 in the services category.
This award confirms our outstanding business performance providing innovative and efficient added value-solutions to our customers.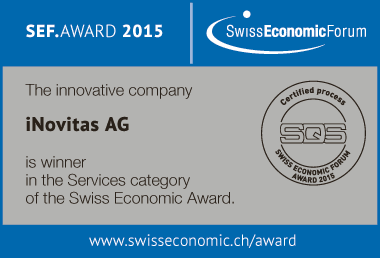 EY Entrepreneur Of The Year 2016 - Finalist
Our management was named as a finalist of "EY Entrepreneur of The Year 2016 - Switzerland". This is one of the world's largest and most prestigious awards for entrepreneurs.
After winning the "SEF Award 2015", this achievement is a further confirmation of our passionate, tireless and competent work that we have been doing since the beginning. This gives us additional motivation to always meet the requirements of our customers and to provide them with efficient and innovative solutions.

Curious? Do you want to collaborate? Contact us!