The City of Zurich updates its infra3D image data
On behalf of the Civil Engineering Office of the City of Zurich, we will be on the road in the city of Zurich between 11 April and 20 May 2022 to update the city's realistic digital twin.  We are looking forward to realising innovative applications, such as new applications made possible by change analysis of the road space.
With the infra3DCity service, the city of Zurich is creating a digital image of its street space and all public spaces. The employees of the city administration thus have the possibility to virtually access any location in the public space and to quickly get an impression of the situation. Time-consuming field inspections and measurement campaigns on site are thus reduced to a minimum. This results in cost and efficiency advantages, while at the same time improving work safety. 
The civil engineering office as well as other administrative departments used the infra3D service in many ways:
Virtual field inspections and 3D measurements (distances, areas, coordinates, cross-sections).
Survey and verification of benches, trees, parking spaces, road markings, lane guidance and signalisation
Planning and visualisation basis for the measurement of road cross-sections, lane widths and clearance profiles
Basis for digital models of infrastructure structures (Building Information Modelling - BIM)
Virtual test drives of temporary diversions and alternative routes 
Efficient processing of applications for the use of public land
Deployment planning of the city police, etc.
Here you can learn more about the project and the application examples in the city of Zurich.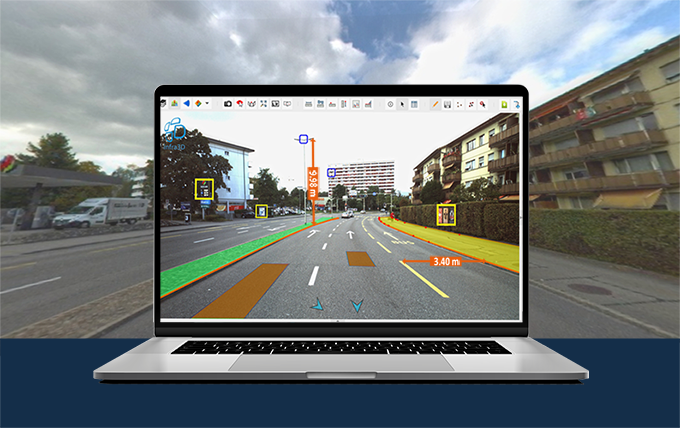 The newly captured image data in 2022 will subsequently be mapped in the existing infra3DCity of the city of Zurich and can thus be used and compared with the image data from the previous campaign (2020) (historicisation of the 3D image data). This possibility to display the situations and developments of conditions over time in the infra3D service is appreciated by the infra3D users as valuable, as it provides a "time-delayed" basis and decision-making basis.
Curious? Contact us and book an non-bindig appointment now.